House Of Terror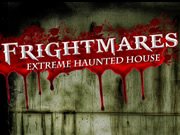 3000 Ringling Blvd
Sarasota, FL
941-361-6350
Details
Average Review

Scare Factor

Very Scary

Appropriate For

ages 12 and up

Organization Type

Charity / NOT For Profit

Listing Categories

More Info

Wheelchair Accessible, Indoor Event(s)
Over 12,000 Square feet of Terrifying Haunted House, for One Low Price!
Frightmares 2013
Brace yourself! Frightmares Haunted House returns in 2013 to the Sarasota Fairgrounds for its biggest, baddest and most extreme Halloween season ever! This year, Frightmares becomes one of the largest haunted attractions in Southwest Florida!
Experience the most unique mix of horror and fun in Florida with ghastly sights, horrifying sounds, terrifying FX and your worst phobias brought to life. The ultimate Halloween experience is at Frightmares Haunted House!
Email Haunt Owner
All photos and videos within this listing are the property of House Of Terror
Hit & Miss

Went during the 2014 season (Frightmares). Great haunt at some times and a complete dud at others. some scenes were really nicely detailed but had no scare actors. One actor even broke character. But a few times, the scares were intense. Really have a love / hate feeling for this haunt.

Posted 1/6/15

1 out of 1 found this review helpful

A real shame and scam

The place smelled from pot and we heard that none of it went to charity. That is really bad.

Posted 10/4/12

went last year

:-/ i getting dressed to go

Posted 10/31/11

An Hour of My Life I'll Never Get Back

Waste of $10.00. Was not worth the wait in line. Extremely disappointed. After 13 years of this production, you'd think they'd come up with something more scary.

Posted 10/31/11

terror to the wallet

i did this haunted house and i must say i literally crapped my pants. the scarriest part was when some dude grabbed my nut sack and demanded all my money

Posted 10/29/11

AMAZING YOU SHULD GO!

you need to go to this haunted house it very good!!!

Posted 10/22/11

OOOOOHHHHHH MYYYY GOOSSHHH!!!!!!!!!!!!!!

I went to the haunted house thinking I could do it in my sleep. I'm 13 and I'm not afraid of a lot of things. I stayed in the haunted house for literaly 20 seconds. Than I bailed. I give you TWO THUMBS WAY UP!!!!!!!!!!!

Posted 10/30/10

#1

the best!!! it puts the rest to shame!!

Posted 10/21/10

Very Good!

Some people don't make it very far! My 14 year old daughter screamed all the way through-I didn't know if she would make it. All 4 of us loved it and will come back!

Posted 10/31/09

Wouldn't waste my money

I went on Oct. 25th this year for the first time and expected to be scared out of my mind. The beginning was really cool and scary, but after that, it just got worse and worse. No one had any cool costumes on, it was basically just a bunch of high school kids running around covered in fake blood. This haunted house was not worth ten dollars.

Posted 10/25/09

cant wait

i cant wait till they open this year!!!! the last three years have been so good! ive been to so many in florida, but the house of terror is my favorite. its in a circus tent, and OMG they have the nastiest clowns ever. my freinds dident make it all the way through last year, so i made new freind for this one

Posted 10/16/09

The House of Terror

I went to this one on 10-25-08 it was pretty cool. I like how they have guides that walk you through the whole thing. It could have been longer. I was the second person in the line out of six and everything that popped out at you popped out at the people behind me, so make sure your in the back of the group if you want to get scared. I'm not going to lie it was scary, but I have been to scarier ones. Their room were decorated so well.

Posted 10/26/08

better than most

i loved the house of terror. the best thing is their location. they haunted house is in a old circus tent. this tent is huge!!! they had the scrariest clowns ive ever seen. i went to the bloody mary haunted house in orlando, and the house of terror the next day. and the house of terror was longer, more scarier, and cheaper!!

Posted 10/24/08

holy crap

Man this was my first haunted house and holy crap it was good.It had a saw theme with a whole lot of scary rooms.OF course i got it the worst.it was like every thing was after me.Save your money and go 2 here instead of a $50 one. :)

Posted 7/7/08

OMG!! THE BEST BY FAR!!!!!

I WENT TO HOUSE OF TERROR LAST YEAR AND I WILL NEVER WASTE MY TIME OR MONEY IN ORLANDO AGAIN!! WORDS CANT EXPLAIN HOW SCARED I WAS FROM THE TIME I WALKED THROGH THE FRONT DOOR TILL I WALKED OUT! THIS HAUNTED HOUSE TOOK ME SO FAR AWAY FROM REALATIY I ALMOST LOST IT!! I WAS WITH MY BROTHER AND HIS FREIND, AND I SWEAR TO YOU THIS STORIES IS REAL. IN ONE OF THE ROOMS IT WAS A EXORCIST ROOM, THE GIRL WAS REAL, AND THE PREIST WAS YELLING AT HER. AND ALL OF A SUDDIN, THE WHOLE GROUND STARTED SHAKING AND SOMEWHERE A BUNCH OF WIND WAS BLOWING AROUND. AND THEN SHE STARTED FLOATING OFF THE BED. 6-7 FEET IN THE AIR, THERE WAS NOTHING UNDER HER AND NO CABLE ANYWERE. I WAS LOOKING. ANYWAYS WHEN SHE CAME OFF THE GROUND. MY BROTHERS FREIND FREAKED OUT, AND HE PISSED HIMSELF! HE HAD TO WALKED OUT THE ENTRANCE BECAUSE HE DIDENT WANT TO GO ANY FURTHER, AND WE WERE ONLY IN THE THIRD ROOM OUT OF LIKE 18. ANYWAY THOSE GUYS AT HOUSE OF TERROR KNOW WHAT THERE DOING. IMEAN THEY MADE A GROWN MAN PEE HIS PAINTS. I WILL GO BACK EVERY YEAR. ITS THE BEST HAUNTED HOUSE IN MY BOOK.

Posted 9/17/07
All information on this page was submitted to Florida Haunted Houses and was believed to be accurate at the time it was posted. Please report any inaccuracies
here
.