2015 Haunted Houses & Attractions in Florida
Looking for some scary-good fun in the Sunshine State this Halloween Season? We've got you covered! FloridaHauntedHouses.com is your guide to the best local Haunted Houses, Corn Mazes, Spook Walks, Pumpkin Patches, and all things Halloween! Whether you're in Jacksonville, on the Florida-Georgia Border, you're located down by the Keys, or you're simply visiting the Orlando-Area this October, we've got you covered - FloridaHauntedHouses.com has the inside scoop on the hottest haunts all across the state! If you're still looking for the best local fun happening in Florida for Halloween, then you've come to the right place - browse by Event Type or Area to find the perfect Haunted Attraction - there's something for everyone!
Located in Boca Raton
855-99-Haunt
Closed today. Next open 10/2/15

Enigmas have risen in South Florida! Tortured souls, demons and undead abominations now roam free, haunting the land and searching for prey! They have crossed into our world, and now they are on the hunt. Will you survive the Enigma Haunt? Read More

Located in Altamonte Springs
407-468-6600

A Petrified Forest in Altamonte Springs, Florida is bringing lots of new and exciting things to you this year. Not only are we introducing a second trail, but the ticket price has also been reduced to $15.00 for one trail. Save $5.00 and brave both trails for only $25.00. With over 85,000 square feet, 70+ monsters, and all new animatronics lurking in the darkness, you are in for a night you won'... Read More

Located in Orlando
407-456-9999
Closed today. Next open 10/2/15

Event is opened in October weekends. COME UNTIL YOU DIE HAHAHAHA MEET THE CAST ON OCT 2 2015.

Doors open at 7:00 pm nightly
UNTIL YOU DIE!!!1 HAHAHAHAHAHAHA. The hunt is bigger and better and you know you may not make it out hahahahahahahaha.The Walking dead is hear they will eat you yum yum yum. come to the party and have fun and may be you will live.
There are walkers hear if ... Read More

Located in Winter Haven
NA
Closed today. Next open 10/2/15

The Shallow Grave is a highly detailed spine tingling scarefest that brings the Central Florida area something they have been missing. An intimate in your face, fear filled environment with custom themes and movie quality sets to put you in the midst of terror unlike anything you have experienced before. Once you have dared to put your foot into "The Shallow Grave" you will be begging for more w... Read More

Located in Ladylake
352-460-5382

10 minute hayride to the entrance of the Haunted Woods a 1/4 mile walk through the Haunted Woods where you'll encounter things that will scare the "YELL" out of you, off Rolling Acres Road in Ladylake, FL (listed as a Real haunt) Read More

Located in Hudson
727-36Haunt

This year as the Haunted Angelus continues to grow and evolve into one Florida's best Haunted Events, we are changing our name to Haunted Angelus Scream Park. New this year our attractions are: Sleep Disorders Haunted House with 3D, Plunder's Revenge Pirate Haunt, Hayride to Hell, and 3 Little Pigs kids haunt.

Read More

Located in Miami
(305) 400-7000

The apocalypse may have been predicted to end the world on 12/21/2012, but something else happened to change life as they knew it. On that fateful date the world did not end, however, something tragic happened which changed the Aztec world forever.

A plane carrying Toxic Bio-Chemicals from a research lab in Mexico flew off course and crashed into the ruins of the Aztec city surrounded ... Read More

Located in Clermont
863-535-6266
Closed today. Next open 10/9/15

In a small Florida town, Dr. Bloodmore purchased the abandoned Klayman Mine and adjoining estate with plans to develop tourism. No one mentioned the horrific events that caused this estate to remain vacant for so many years.

Just as in the past, the new owner's wife also fell to her death on the same staircase. This has left Dr. Bloodmore seeking a way to bring her back. To ease his pa... Read More

Located in Jacksonville Beach
904.246.4386

Haunts Nights features 3 Haunted Houses and Triple the Terror! Featuring Northeast Florida's only 3D Haunted House, Apocalypse 3D!

Apocalypse 3D
Awaken from a stasis sleep into a post-apocalyptic future infested with zombies, giants and mutants. Come face-to-face with epic figures like DOOM and DR. TRAUMA. You will navigate through a doomed city full of glowing radiation using you... Read More

Located in Dade City
(813) 452-5412
Closed today. Next open 9/25/15

Tampa Florida's newest haunt experience will feature 6 terrifying attractions in 1 location! Read More
Halloween 2014 FloridaHauntedHouses.com attracted over 81,320 visitors.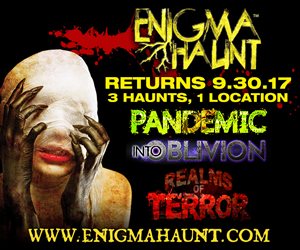 Featured 2015 Halloween Events
Florida Halloween Events
Halloween event list including haunted houses, corn mazes, hayrides, spookwalks, home haunts, and more.
From The Florida Haunt Blog