Scream-A-Geddon Horror Park Delivering Heart-Pounding Scares this Halloween Season
Home » Blog » Florida Haunts: An In Depth Look
October 12, 2018 By Haunt News & Press Releases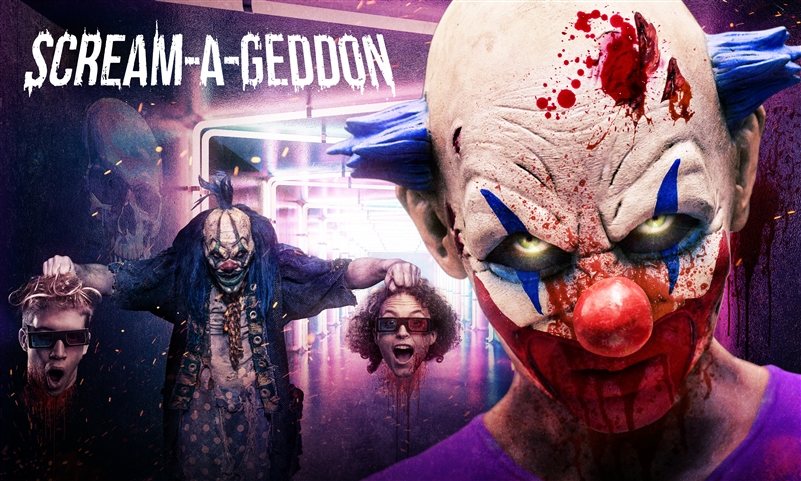 Be Afraid... Be Very Afraid!
FloridaHauntedHouses.com recently sat down with Jon Pianki of Scream-A-Geddon Horror Park, to discuss what's new at the attraction for the 2018 Halloween Season!
What's new at Scream-A-Geddon Horror Park for 2018? Do you have any new rides, attractions, or special features that Haunt Seekers should know about?
We have three brand new attractions for 2018! Rage 3D, Demon's Revenge, and Zombie Paintball Assault.
What are you most excited about for the 2018 Halloween Season?
We love unveiling the new scares in our attractions. Every year we take actor suggestions, house manager input, customer surveys, and experiences from traveling to haunts around the country and use all that info to redesign every haunted attraction at SCREAM-A-GEDDON. The name of the haunted house may stay the same, but we rebuild every attraction each year to make it better than the last. And this year, with three new attractions, it is going to be the best year yet!
What differentiates Scream-A-Geddon Horror Park from other local haunts in Florida?
SCREAM-A-GEDDON is an experience. You don't just come walk through a haunted house and then go home. You get 6 haunted attractions plus the Monster Midway where we have food, drinks, games, prizes, and roaming monsters.

We also have interactive attractions meaning our monsters can touch you, grab you, remove you from your group, take you to a secret room, or keep you behind!
How long has Scream-A-Geddon Horror Park been in business? Can you tell us a bit more about Scream-A-Geddon Horror Park's history?
This is SCREAM-A-GEDDON's 4th year!
What's your favorite experience since opening Scream-A-Geddon Horror Park?
Introducing the interactive portion of our attractions has been one of my favorite experiences. Watching the customers' reaction to that was so much fun. We read every review and email sent. We talk to customers onsite and the feedback was better than we ever imagined.
How long is a typical haunt experience at Scream-A-Geddon Horror Park from start to finish?
It really depends on the night you come, but we always tell victi... err, customers to plan for at least 2 hours to really experience everything to its fullest.
On a scale from 1 to 10, how scary would you say Scream-A-Geddon Horror Park is? Why?
As we always say fear is subjective and it really depends on what scares you personally, but I'd say we range from 7 to 10 depending on the person. This is part of the reason our attractions are all so different from each other. We have a haunted prison, a 3D clown house, a town overrun with demon's, a zombie infested military base, inbred cannibals along a dark walk through the woods, and a militarized school bus built to drive you around while you shoot zombies with paintball guns. There is really something for everyone, plus the Monster Midway has its own scares that pop up when you least expect them.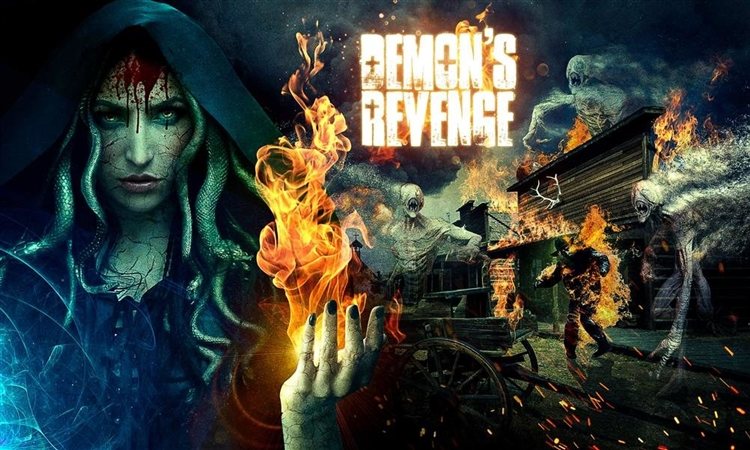 Does Scream-A-Geddon Horror Park's property have any real haunted history? Do you have a spooky encounter you'd like to share?
Haha - we get asked this all the time, but unfortunately we haven't experienced any real hauntings out here.
What inspired you to open up a haunted attraction? What's your favorite part of the business?
We love haunted attractions. These types of attractions provide an escape from the day-to-day stresses of life for thousand of people every year and we love being a part of that. There is always a fun art to building haunted attractions. Dreaming up props, scares, and sets is a lot of fun and then seeing customers experience them makes it all worth it every year.
How has new technology (i.e. animatronics, special props, etc) helped you to enhance Scream-A-Geddon Horror Park?
We try to not rely on "technology" as much as actors and sets for our attractions but we do like mixing in special effects and actormatronics in key places throughout our attractions. We don't like walking through attractions and feeling like we are walking through a haunt world convention so we don't think our customers would like it either. The goal is to give a unique experience in every attraction. If that goal is best achieved with a special prop, then that is what we do. If some sound misdirection and a surprise from an actor is best, we do that instead.
Can Scream-A-Geddon Horror Park accommodate large groups? How many people can experience Scream-A-Geddon Horror Park together as a group?
Because of our Monster Midway, SCREAM-A-GEDDON is perfect for large groups. How large of a group? Well that is up to you. However, when it comes to going through the attractions, we feel groups of 4-6 at a time is best. Nobody likes to have the show ruined because they saw the scare happen ahead of them.
Does Scream-A-Geddon Horror Park offer any special deals, discounts, or coupons?
We do contests on social media all season. We do promo codes through our email newsletters. We do promo codes via SMS. And we also have several radio and television stations doing free ticket giveaways all September and October.
Anything else you'd like to let us know about Scream-A-Geddon Horror Park?
We are open 7 days a week through November 3rd. Plan to have a scary fun night. Four of our attractions are outdoors, so check the weather before you come and dress accordingly.