2023 Question and Answer With The Haunt
Home » Blog » Florida Haunts: An In Depth Look
September 4, 2023 By Haunt News & Press Releases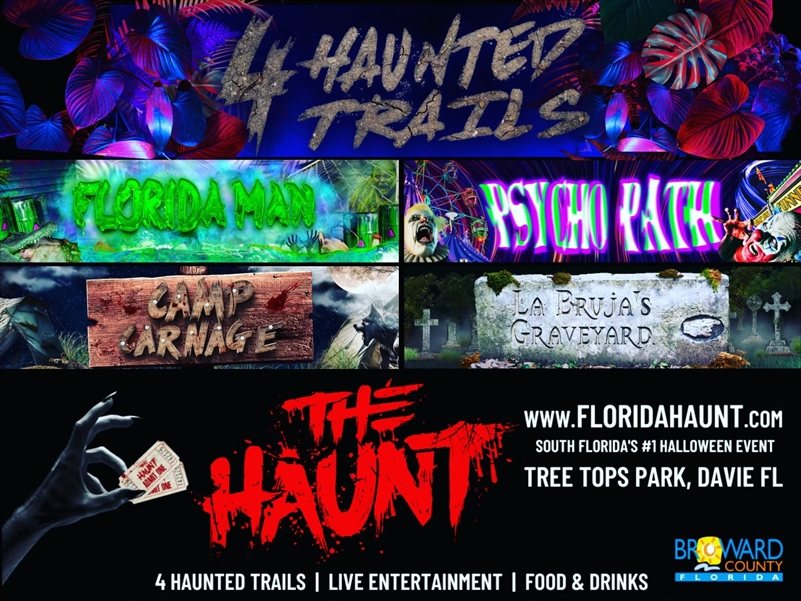 4 New Trails This Season!!
FloridaHauntedHouses.com recently sat down with Jaime of The Haunt, to discuss what's new at The Haunt for the 2023 Halloween Season!
What's new at The Haunt for 2023? Do you have any new rides, attractions, or special features that Haunt Seekers should know about?
Four Haunted Trails: Dive into the tales of the infamous Wayland in 'Florida Man,' face twisted clowns in 'Psycho Path,' navigate the haunted forest of 'Camp Carnage,' and escape the creatures of 'La Bruja's Graveyard.' Upgrade to an All New Exclusive Air Conditioned Lounge with Air Conditioned Bathrooms and a Private Bar.
What are you most excited about for the 2023 Halloween Season?
The intoduction of what is guaranteed to be a crowd favorite in Florida Man!
What differentiates The Haunt from other local haunts in Florida?
We are completely ourdoors in the woods. This is an immersive, timed experience so other patrons are not ruining your scares.
How long has The Haunt been in business? Can you tell us a bit more about The Haunt's history?
This is The Haunts 4th season and it's guaranteed to be the biggest and best one yet!
What's your favorite experience since opening The Haunt?
Seeing all the families coming together and having a great time while making memories.
How long is a typical haunt experience at The Haunt from start to finish?
The trails average about 15-20 minutes.
On a scale from 1 to 10, how scary would you say The Haunt is? Why?
8 or 9. The natural forrest setting, paired with our scenes and scare actors make it a truly one of a kind experience in South Florida.
Does The Haunt's property have any real haunted history? Do you have a spooky encounter you'd like to share?
We've seen some things in the dark woods that we can't explain.
What inspired you to open up a haunted attraction? What's your favorite part of the business?
I grew up in Ohio and some of my favorite memories are of going to Haunted Trails with my family and then as I got older, with my friends. We didn't have anything remotely like that in South Florida and I wanted my son and other families in the area to be able to have the opportunity to make the same type of memories that I look back on so fondly.
Can The Haunt accommodate large groups? How many people can experience The Haunt together as a group?
Yes. Up to groups of 12. We recommend splitting the groups up to enchace the experience for everyone.
Does The Haunt offer any special deals, discounts, or coupons?
All the time. Visit our social media pages to see if there are currently any promotions or sales running.
Anything else you'd like to let us know about The Haunt?
We plan to expand every year. This year we are introducing our Exclusive 21 and Older Air Conditioned Lounge, with an Air Conditioned dedicated bar and Air Conditioned Private Bathrooms. As well as themed nights, photo ops and nightly raffles.