U.S. Postal Service Release Spooky Silhouette Halloween Forever Stamps
Home » Blog » Halloween Headlines
October 14, 2019 By Wendy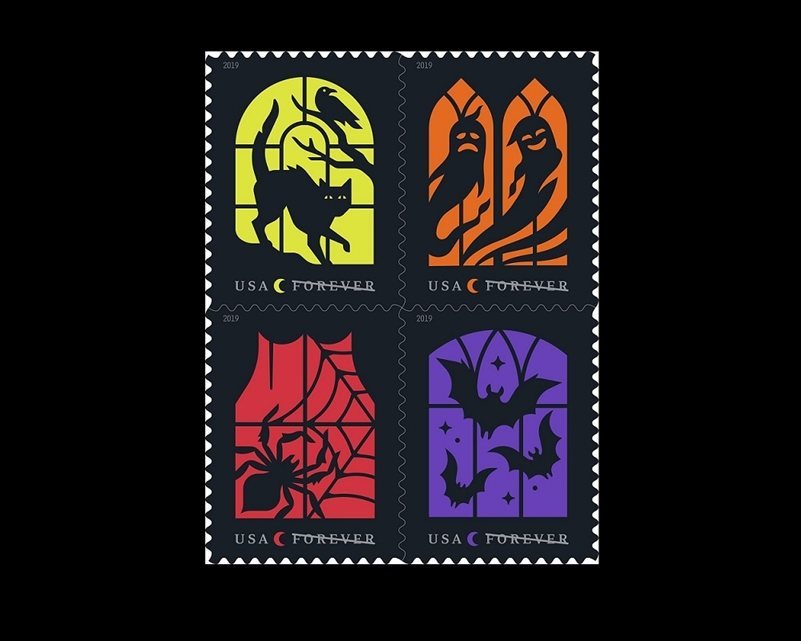 Spooky Silhouettes Forever stamps for Halloween
Photo by:
USPS.com
The U.S. Postal Service is showing off its Halloween spirit with the release of Spooky Silhouettes stamps. They're colorful, creepy and chilling with Halloween motifs rendered as black silhouettes in eerily backlit windows. There are four stamp designs, including:
A cat with an arched back beneath a raven perched on a bare tree branch, all against a yellowish-green background;
Two ghosts against an orange background;
A spider and a web against a red background; and
Three bats against a purple background.
Whether you have Halloween mailings to get out or you're a stamp collector, the new stamps are a wonderful addition to help celebrate the Haunt and Halloween season.
Artist Tyler Lange worked with art director and designer Greg Breeding to create the stamps.
These Forever stamps will always be equal in value to the current First-Class 1-ounce price. They are available for purchase at Post Office facilities nationwide and at The Postal Store online.
Let us know in the comments below which Spooky Silhouette Forever stamp design is your favorite!