Spring Hill Cemetery - Real Haunts in Brooksville FL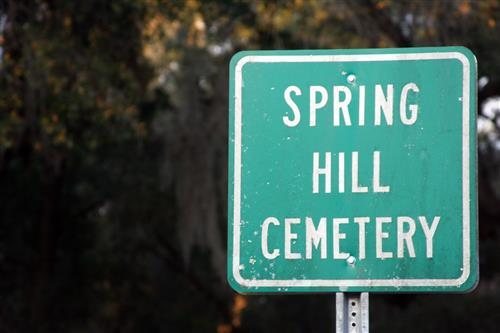 8580 Fort Dade Ave.
Brooksville, FL
Details
Average Review

Listing Categories

Open To Public

Yes - Open To Public
This cemetery is located off of Fort Dade Ave. in Brooksville and it is an old black cemetery with the earliest "known" burial starting in the late 1800s. It has been said that at dusk, you can see what seems to be a man hanging from a tree limb. Groups of ghosts have also been seen standing together around the headstones of family plots. One report claims you can hear an infant crying at certain times during the night.
Mouse over photos to see photo credits.
Boring

Been out there numerous times day and night, but have never seen, or heard anything. Wish I could see or hear something, but nope.

Posted 9/30/20

Amazing EVPs

The first word I got on my phone evp device upon parking was "hung". As in the man who was hung from the tree. Then I recieved the word "military". As we went to a flat tombstone. We were clearing the dirt off of it and the tombstone contained the word "ARMY". A while later some flattened balloons got my attention on the other side of the cemetery as they rose into the air. I walked over and began doing questions. Among some noise and residual words, my phone said "fell" and "crash. I realized that this was a newer tombstone from a male that died in his 30s. On my way home I googled his name and cause of death. The article stated that he was trying to close a door on a vehicle he was in with friends while on the highway and he fell out of the vehicle, causing cars to crash around him. Proof positive.

Posted 7/22/20

2 out of 2 found this review helpful

Very strong energy

When we first got out of the car and started walking, we all heard a baby crying sound, we all noted it and continued looking around just to notice the grave we were walking past belonged to a baby. Other than that we heard nothing, my friend said she thought she saw something move in the bushes but wasn't sure what it was and again other than that nothing. The energy on the other hand was super intense and could be felt by all of us. It felt like something was sitting on my chest, it was almost hard to breathe and there was a cold feeling in my throat. My head felt super tight, like I was wearing a really tight headband almost. There was also something compelling two of us to go over to the back corner with the big tree. When we got there all the symptoms explained above got more intense, and we felt the same sort of energy pulling us towards the woods past the fence. We didn't cross it, but we definitely felt extremely compelled to

Posted 6/19/20

1 out of 1 found this review helpful

Very creepy

You hear a baby cry at night and i have multiple picture's of spirits and my husband has caught voices, and my phone messes up alot here, and the overwhelmness of the area is great.

Posted 4/24/20

2 out of 2 found this review helpful

T.I.P.S. Paranormal

We have been out there 5 times now. Always collecting EVP's and hearing screams and talking when no one is around. Only once in the daytime. I posted my videos on YouTube. Scary place. Really creapy! Caught no apparitions yet but still investigating.

Posted 2/1/20

6 out of 6 found this review helpful

A spirit may have saved our lives! We caught 2 apparitions on film!

We visited last week with a friend who is a paranormal Investigator. This place did not disappoint! One spirit warned us and may have saved our lives! Here is our channel link. https://www.youtube.com/c/RAPtorAdventures

Posted 11/23/19

4 out of 4 found this review helpful

Peaceful as far as spirits go..

Okay so.. I've been going here on and off the last 14 years or so. I started back in high school. We use to go very often during the day and at night. I was always respectful. I would clean up what I could(this was back when it wasn't taken care of much) and drag big fallen branches off into the woods,pick flowers to leave on graves so on. I have never seen anything out there,ever. Never heard a baby crying,no hanging man,none of it. However we did find a voodoo doll that was in some big rotting steaks and the whole thing was covered in black cloth with pins all in it. One night at around midnight we were out there and a car drove in and pulled up behind us and followed us out. We got a strong feeling we weren't welcome there. As we pulled out, there was a line of cars,about 10 or so pulling in. Now who would be out there that late? Had it been a few cars I'd have guessed maybe paranormal investigators but this was a lot of cars and they definitely didn't want us out there. The way that car pulled up behind us so close and made sure we left was unsettling. On another occasion we were out there late at night and when we got out all was normal at first. Then we started hearing sounds. They came from the surrounding woods. It didn't sound like an animal but it also didn't sound human,either. It was more human than animal tho. Like a weird wooping and hollering sound. It was an intimidating sound. We kinda brushed it off until that same sound started coming from more than one place in the woods. We stood there listening and the longer we were there the more places in the woods these sounds were popping up. It felt like someone or something was intentionally trying to mess with and intimidate us. There was no way 10 or more people were just standing all around the woods in different places like that. So that freaked us out and we promptly left. My ex swore up and down that he and 3 friends were out there one night and had a crazy encounter with what he called big foot but very smelly. They parked in back right and went over the fence and into the woods. One friend stayed behind while the other 3 went. He said the 3 of them were walking down a path only lit by the moon and they started to smell rotten eggs very strongly. They all joked at first,holding their noses and blaming each other for the smell. That is until he looked down the path and saw the silhouette of what he described to be big foot. He knew then that's where the smell was coming from and he took off running back toward to cemetery. He said he could hear this thing chasing him and it felt like that feeling when a dog is chasing you and you're scared and just trying to outrun it. He got back to the truck that his other friend was still in and jumped in. He could see his other 2 friends running back to the truck and they were equally as scared as he. They jumped in the truck and yelled for the driver to get them out of there. Later when they were recalling what happened they swore that thing was chasing them. My ex said that wasn't possible as it had been ahead of them,chasing him and that he didn't see anything chasing behind them when he was in the truck. I told him if anything that sounds like a Florida skunk ape. If such things actually do exist. Not the first time someone has told me a story about seeing one of those in and around this county. If they do exist I don't think they're living breathing animals but more of a type of spirit or interdimensional being. I've never seen one so don't really think they exist but...if they do,that would be my guess as to what they are. A couple other things happened out there but I've written enough! Lol if u ever have any questions feel free to shoot me an e-mail. Autumnembersmommy@yahoo.com

Posted 11/21/19

2 out of 2 found this review helpful

Spring hill CEMETERY

We went in the daytime and also well after midnight. No ghost,spirits,VOICES. I could have literally slept there all night. This cemetery is a very peaceful feeling. Don't waste your time, big YOUTUBERS are lieing about it. If u don't believe me check out Mysterious Granny and watch the entire video. Mysterious granny has a picture of her and labrador. I'm from ohio and made a special trip to florida to see what all the hype is about.

Posted 10/15/19

2 out of 6 found this review helpful

Fright

You will definitely get a fright. While entering you feel a deep heavy feeling. 2 other ghost hunters and I felt it and also saw an apparition of a KKK member. We all saw it at the same time while entering the cemetery. I'm a medium so I can definitely tell you this place is definitely haunted. I have seen a boy and a girl apparition, also a man hanging from a tree.. also there are spirits in the woods. We went into the woods and got a lot of evp. Also saw a woman crying by a grave wearing a long white dress looked from back in the days . There are ghosts that walk amongst there that don't want us there. I have went there with a team and also by myself late night

Posted 8/25/19

3 out of 4 found this review helpful

Stuck

This place is deff not quiet .. Myself my little brother and few of our friends went out there one night about 10 yrs ago .. We walked all the way towards the back untill we came up to a little fence .. We started to ask questions and right away we could hear people talking then we would hear a noise then wed ask more questions untill what sounded like something being thrown at the fence .. Thats when we were out .. But our asses got stuck in sand .. It was not fun .. Who ever was there that night was not happy that we were

Posted 8/11/19

1 out of 1 found this review helpful

Both visits didn't disappoint!

On vacation from NY we decided to stop. The feeling you get is overwhelming. My mother always told me we were sensitive, I now believe her! My friend had her name whispered in her ear. I took video and upon listening back it was filled with whispers! We went back a few days later and was more peaceful feeling. Upon leaving I had what felt like a finger drag down my neck! Cant wait to review this time's video!!! Can see them on my channel Beccas_Bins :)

Posted 6/27/19

3 out of 3 found this review helpful

New to the area

Drove past the Cemetary sign. I was intrigued and didnt believe there was actually a cemetary lurking through those woods. Low and behold after a short trip through a wooded area I came upon an opportunity open wrought iron fence. Sorry to disappoint everyone....but....It was a nice peaceful and clean cemetary. No hauntings occurred for me. I took pics down the dirt road and of the gate. To me nothing out of the ordinary in my pics.

Posted 4/27/18

4 out of 5 found this review helpful

my paranormal experiance

I was there about 15 yrs ago more then once first time on a date rode in his cars headlights started flickering heard a voice telling us to turn back now.another time i went saw the black man hanging from the tree,could here his wife i am assuming screaming oh god no,and the voice of a man i am guessing kkk member saying shut up nigger.i know alot of the black people that were killed by the kkk are burried there.i also drove my car at the back of the cemetary and heard a voice say turn back now.heard if you go further that people have been known to dissapear and never come back.also had a handprint on my car window when i myself went back for a third time.

Posted 9/6/17

9 out of 9 found this review helpful

to Moderator

on my unpublished post better change my email from ricksghostlytravels@cfl.rr.com to rickster76@cfl.rr.com, I don't seem to have my password for the first email address anymore.

Posted 6/5/17

1 out of 2 found this review helpful

Strange experiences, day and night

I've made many respectful visits here, always being very careful in my walking and picture taking. A couple of times I've even cleaned up fast food trash and beer cans that dorks have left behind. It doesn't seem that pictures or links can be uploaded here, but if they can I have some very interesting stuff, I think. No hanging man from any tree, I sure hope to never see such a tragic sight. But very interesting day and night pics, if uploading is allowed???

Posted 6/5/17

5 out of 5 found this review helpful

Never agian

I have been here and creepy things have happend i see a ghost in the woods and a man hanging from a tree witch was creepy and heard a little girl cry

Posted 4/17/17

2 out of 4 found this review helpful

The scariest experience

I used to go out there all the time and each time was a different experience but the last time made me never want to go back. As I pulled through the gates my lights started flickering, we drove to the further corner of the cemetery and parked. While outside the car all of my friends were standing around talking I was taking numerous pictures and wanted to view them afterwards. I suddenly heard a baby cry and my friends got scared and went to the car I stayed however and while standing there a loud ROAR (no joke) like screamed in my ear, I ran back to the car to try to leave but my car felt stuck, the cameras wouldn't let me take any more pictures, we seen two headlights entering the gates, looked like a really old fantasy car from the 1800's but as the car got closer it disappeared, when I went home I viewed my pictures and I seen a man hanging from a rope on the first big tree in the cemetery, the second pictures had like 5 different faces on my friends face and another picture looked like a ghost wearing a dress but couldn't really make up the full imagine and many orbs. This place is scary and has a lot of history behind it, the meat grinder is still in the woods as well.

Posted 3/28/17

12 out of 13 found this review helpful

Halloween

My best friend, her boyfriend and I were out last Halloween riding around. Her and I were both so drunk and we were looking for an adventure. We weren't from brooksville, we were just out there for a party. When passing the cemetery we knew nothing about it, but my friend and I both begged her boyfriend to pull in through the gates. So he finally did and he parked. All 3 of us felt chills immediately. we stayed in the car and joked around trying to scare eachother and suddenly my friend opened the car door and started running towards the woods, then stopped and was staring up at the trees. Her boyfriend and I were both confused and freaked out & shouted at her to come back. She turned around and told us to be quiet and then we heard a baby crying in the distance that got louder and louder until it stopped out of nowhere. She ran back to the car and we tried to leave and our TIRES WERE STUCK IN THE SAND. We were all extremely scared,her boyfriend called his friend who left the party when we did, and he said he'd come with his truck and help us out but it'd be about 30 minutes. It was the longest 30 minutes of my life, and I'm pretty sure he arrived about 10 mins sooner than he said he would... the car lights started turning on and off, and the radio started skimming through different radio stations and the music would go from sounding normal to distorted. Then the car shut off completely and all 3 of us heard the voice of a man coming from inside the car whispering my friends name. Then we heard tapping on the back window. We saw flashlights coming from the woods and nobody else was out there. My friends boyfriend who is like super serious type and hardly ever jokes around swore he saw a little girl running towards the car WITH NO FACE. The next morning the drivers side of the car had a scratch all the way down the side of it, and all the windows were covered in child hand prints.

Posted 3/23/17

12 out of 14 found this review helpful

Graves

I have been back there during the day because me and my cousin had heard some talk about the graves being dug up and when we went back there we seen about 10 of them dug up and open. We also have a KKK group here in Brooksville that meet back there. A friend of mine rode in on them and still to this day will not say what happened to him back there h just said he will never go back or even drive over there ever again

Posted 3/23/17

3 out of 4 found this review helpful

Most powerful exlerience i have had

(Visit Feb 2017) A friend brought me and my daughter there to show me some of historic Spring Hill/Brooksville. It was day time when we went. I have never felt more energy in one place. I didnt feel the energy inside the graveyard, I felt it outside the white fence looking in a us (mostly from the area with the clearing, straight ahead from where you pull in). It was a peaceful feeling. We walked around and looked at dates and names. I was very intrigued by the energy. I have had 2 experiences with hauntings, one peaceful and one not so much once we disturbed her. Although we had no interaction with the spirits they knew we were there and we knew they were. It was a very enlightening experience. Beautiful cemetery ??

Posted 3/23/17

2 out of 2 found this review helpful

View all Spring Hill Cemetery Reviews
Share Your Experience or Comments - Spring Hill Cemetery
Real Haunt Listing Info
Visitors to this page: 28,990
Last edit to this listing: 1/28/2016 (1767 days ago)

Disclaimer: Florida Haunted Houses does not endorse or support trespassing to visit real haunts. Before you visit ANY local real haunt, make sure to acquire the appropriate permits and/or permissions, and be respectful of privately owned properties. Countless Haunt Hunters have been arrested, ticketed, and reprimanded by the authorities for trespassing. To avoid this, be sure to get in touch with the property owners before visiting a haunt, and respect their hours of operation, local regulations, and rules for visiting at all times. Happy haunting!
All information on this page was submitted to Florida Haunted Houses and was believed to be accurate at the time it was posted. Please report any inaccuracies
here
.