Spring Hill Cemetery - Real Haunted Place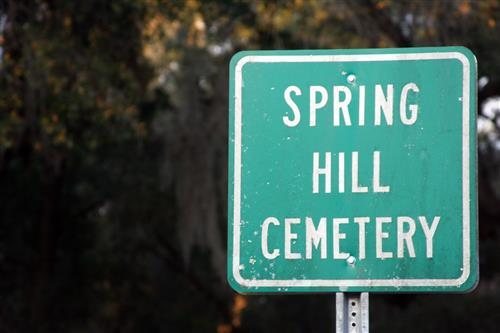 8580 Fort Dade Ave.
Brooksville, FL
Details
Average Review

Listing Categories

Open To Public

Yes - Open To Public
This cemetery is located off of Fort Dade Ave. in Brooksville and it is an old black cemetery with the earliest "known" burial starting in the late 1800s. It has been said that at dusk, you can see what seems to be a man hanging from a tree limb. Groups of ghosts have also been seen standing together around the headstones of family plots. One report claims you can hear an infant crying at certain times during the night.
Mouse over photos to see photo credits.
Posted here before

A Seriously sad heaviness looms over this cemetery every times I've gone there. Odd bright large orbs noted sitting right at the tops of a few tombstones. You know it's haunted as soon as that dark tight road opens up to the cemetery.

Posted 7/11/23

2 out of 2 found this review helpful

Footage

My friends and I went here back in high school, 2006ish, we brought a camera, we saw several figures standing behind gravestones, we heard the drums, and the whispers, as we were driving around the trail to leave, my friends girlfriend who had the camera said "oh my god I just saw a baby" and when we turned the camera around, clear as day, a baby crawled across the trail. We went back in the day time and there is an infants grave next to their mother where we saw the figure. We got caught by cops out there and showed them the footage and instead of telling us to leave they left.

Posted 4/2/23

5 out of 5 found this review helpful

Horrible Rotten Smell

My friends and I went there the night before Halloween and didn't know any of the history behind this place or that it was such a renowned haunt. We didn't bring flashlights which I would recommend to other people because it is extremely terrifying walking down the road at night through the dense trees with only the flashlights on your phone. The air was very tense and clammy but we didn't witness any apparitions or sounds. What we did notice was that when we walked back to our car right in front of the gate there was a horrible smell of rotting death. We didn't smell it on the way in but it smelled like the rotten thing was hovering in our faces. I saw a similar comment on this message board about smelling a rotten smell when leaving but not when entering from back in 2020 and got chills all over. I have read about similar experiences with this place and have never felt so terrified about a place even a month after going. I will probably go back to visit with my friends during the day but I would warn against going at night.

Posted 11/28/22

4 out of 4 found this review helpful

Leave them.alone

Nothing like disturbing the souls of people who already endured a horrible life and finding entertainment in it, must be a great way to preserve the hx of those who suffered.

Posted 4/17/22

2 out of 11 found this review helpful

Now private property

My husband and I have been hearing a lot about Spring Hill, so much, we decided to check it out. We're into adventuring and paranormal investigations. We drove about an hour to get there and it is now closed and posted private property with video surveillance... Kinda disappointed we couldn't go in, not sure if it's open to the public during the day still but it is definitely closed off at night. Still a very creepy drive. Hopefully we'll come back during the day and check it out.

Posted 3/2/22

6 out of 8 found this review helpful

I have Photos Taken during Daylight

if you do not believe in spirits or ghost whatever you choose to call the dead. You will after a few visits to this location. i recently got a sb-7 I'm excited to see if anyone comes through as clear as they did on the app. ( as i have a few very clear recordings)

Posted 6/21/21

3 out of 3 found this review helpful

Pretty creepy stuff.

Very eerie at night. Make sure to bring a spirit box! Using my SB7, I got a lot of chatter including a lot of "get outs" and even got someone to say "away with you." Bring a lot of happy thoughts if you choose to visit the children's part of the cemetery,

Posted 4/13/21

5 out of 5 found this review helpful

IT GET'S WORES

The fist times i went to this cemetary it was very cool but then moving on when i go i always's i have a bad fealing as soon as i enter and and i don't feal welcome. My dad found dead animal body's in a bag by the entrance and my dad took a picture from the woods and it look's like we saw a wolf or something bad looking a us so i would say the more u go the more u will get stuff because they see u more they will hate u more. But it's not all bad but i don't like it anymore.

Posted 4/5/21

5 out of 5 found this review helpful

screaming

me and three others came here, and after walking for around 2 minutes, we heard a screaming sound coming from the woods.

Posted 3/7/21

1 out of 1 found this review helpful

very real

When me my mom and dad got there we had nothing but then in the night we had gotton toched heard people,drums and we all saw a appration walk and bend down i would go at night more stuff to see

Posted 2/28/21

2 out of 2 found this review helpful

Not crazy active but active enough

I live in the area so I often like to take my Fort Dade drive, if you know the area you know fort dade road. Anyways, to begin idk if the kkk is still a thing but people DEFINITELY have STRANGE meetings here late at night, they will all leave in sync. I don't reccommend going in groups smaller than two. There used to be a tree further in the back with lots of chimes and trinkets hanging from it however I do believe voodoo was involved with some of the items that hung from the tree, that tree was taken down in 2019 i believe. Sadly i know the history and I hope that any spirits there will protect their resting site from any terrible people. The light poles often flicker, especially when theyre asking you to leave. I always tell spirit that I am there to pay respect and enjoy the scenery, clean up any trash, etc. Please remember to respect those who are no longer presently with us, they're not too far!

Posted 12/11/20

11 out of 11 found this review helpful

Seemed peaceful except for the smell of death

We didn't detect anything but when we walked back to our car it smelled like death.. the smell wasn't there when we entered

Posted 12/1/20

4 out of 5 found this review helpful

Boring

Been out there numerous times day and night, but have never seen, or heard anything. Wish I could see or hear something, but nope.

Posted 9/30/20

1 out of 5 found this review helpful

Amazing EVPs

The first word I got on my phone evp device upon parking was "hung". As in the man who was hung from the tree. Then I recieved the word "military". As we went to a flat tombstone. We were clearing the dirt off of it and the tombstone contained the word "ARMY". A while later some flattened balloons got my attention on the other side of the cemetery as they rose into the air. I walked over and began doing questions. Among some noise and residual words, my phone said "fell" and "crash. I realized that this was a newer tombstone from a male that died in his 30s. On my way home I googled his name and cause of death. The article stated that he was trying to close a door on a vehicle he was in with friends while on the highway and he fell out of the vehicle, causing cars to crash around him. Proof positive.

Posted 7/22/20

8 out of 8 found this review helpful

Very strong energy

When we first got out of the car and started walking, we all heard a baby crying sound, we all noted it and continued looking around just to notice the grave we were walking past belonged to a baby. Other than that we heard nothing, my friend said she thought she saw something move in the bushes but wasn't sure what it was and again other than that nothing. The energy on the other hand was super intense and could be felt by all of us. It felt like something was sitting on my chest, it was almost hard to breathe and there was a cold feeling in my throat. My head felt super tight, like I was wearing a really tight headband almost. There was also something compelling two of us to go over to the back corner with the big tree. When we got there all the symptoms explained above got more intense, and we felt the same sort of energy pulling us towards the woods past the fence. We didn't cross it, but we definitely felt extremely compelled to

Posted 6/19/20

6 out of 7 found this review helpful

Very creepy

You hear a baby cry at night and i have multiple picture's of spirits and my husband has caught voices, and my phone messes up alot here, and the overwhelmness of the area is great.

Posted 4/24/20

5 out of 5 found this review helpful

T.I.P.S. Paranormal

We have been out there 5 times now. Always collecting EVP's and hearing screams and talking when no one is around. Only once in the daytime. I posted my videos on YouTube. Scary place. Really creapy! Caught no apparitions yet but still investigating.

Posted 2/1/20

8 out of 8 found this review helpful

A spirit may have saved our lives! We caught 2 apparitions on film!

We visited last week with a friend who is a paranormal Investigator. This place did not disappoint! One spirit warned us and may have saved our lives! Here is our channel link. https://www.youtube.com/c/RAPtorAdventures

Posted 11/23/19

5 out of 5 found this review helpful

Peaceful as far as spirits go..

Okay so.. I've been going here on and off the last 14 years or so. I started back in high school. We use to go very often during the day and at night. I was always respectful. I would clean up what I could(this was back when it wasn't taken care of much) and drag big fallen branches off into the woods,pick flowers to leave on graves so on. I have never seen anything out there,ever. Never heard a baby crying,no hanging man,none of it. However we did find a voodoo doll that was in some big rotting steaks and the whole thing was covered in black cloth with pins all in it. One night at around midnight we were out there and a car drove in and pulled up behind us and followed us out. We got a strong feeling we weren't welcome there. As we pulled out, there was a line of cars,about 10 or so pulling in. Now who would be out there that late? Had it been a few cars I'd have guessed maybe paranormal investigators but this was a lot of cars and they definitely didn't want us out there. The way that car pulled up behind us so close and made sure we left was unsettling. On another occasion we were out there late at night and when we got out all was normal at first. Then we started hearing sounds. They came from the surrounding woods. It didn't sound like an animal but it also didn't sound human,either. It was more human than animal tho. Like a weird wooping and hollering sound. It was an intimidating sound. We kinda brushed it off until that same sound started coming from more than one place in the woods. We stood there listening and the longer we were there the more places in the woods these sounds were popping up. It felt like someone or something was intentionally trying to mess with and intimidate us. There was no way 10 or more people were just standing all around the woods in different places like that. So that freaked us out and we promptly left. My ex swore up and down that he and 3 friends were out there one night and had a crazy encounter with what he called big foot but very smelly. They parked in back right and went over the fence and into the woods. One friend stayed behind while the other 3 went. He said the 3 of them were walking down a path only lit by the moon and they started to smell rotten eggs very strongly. They all joked at first,holding their noses and blaming each other for the smell. That is until he looked down the path and saw the silhouette of what he described to be big foot. He knew then that's where the smell was coming from and he took off running back toward to cemetery. He said he could hear this thing chasing him and it felt like that feeling when a dog is chasing you and you're scared and just trying to outrun it. He got back to the truck that his other friend was still in and jumped in. He could see his other 2 friends running back to the truck and they were equally as scared as he. They jumped in the truck and yelled for the driver to get them out of there. Later when they were recalling what happened they swore that thing was chasing them. My ex said that wasn't possible as it had been ahead of them,chasing him and that he didn't see anything chasing behind them when he was in the truck. I told him if anything that sounds like a Florida skunk ape. If such things actually do exist. Not the first time someone has told me a story about seeing one of those in and around this county. If they do exist I don't think they're living breathing animals but more of a type of spirit or interdimensional being. I've never seen one so don't really think they exist but...if they do,that would be my guess as to what they are. A couple other things happened out there but I've written enough! Lol if u ever have any questions feel free to shoot me an e-mail. Autumnembersmommy@yahoo.com

Posted 11/21/19

3 out of 3 found this review helpful

Spring hill CEMETERY

We went in the daytime and also well after midnight. No ghost,spirits,VOICES. I could have literally slept there all night. This cemetery is a very peaceful feeling. Don't waste your time, big YOUTUBERS are lieing about it. If u don't believe me check out Mysterious Granny and watch the entire video. Mysterious granny has a picture of her and labrador. I'm from ohio and made a special trip to florida to see what all the hype is about.

Posted 10/15/19

2 out of 10 found this review helpful

View all Spring Hill Cemetery Reviews
Share Your Experience or Comments - Spring Hill Cemetery
Real Haunt Listing Info
Visitors to this page: 36,501
Last edit to this listing: 1/28/2016 (2798 days ago)

Disclaimer: Florida Haunted Houses does not endorse or support trespassing to visit real haunts. Before you visit ANY local real haunt, make sure to acquire the appropriate permits and/or permissions, and be respectful of privately owned properties. Countless Haunt Hunters have been arrested, ticketed, and reprimanded by the authorities for trespassing. To avoid this, be sure to get in touch with the property owners before visiting a haunt, and respect their hours of operation, local regulations, and rules for visiting at all times. Happy haunting!
All information on this page was submitted to Florida Haunted Houses and was believed to be accurate at the time it was posted. Please report any inaccuracies
here
.