X-Scream Halloween at G-Star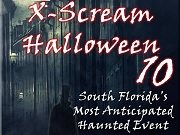 2030 South Congress Avenue
Palm Springs, FL
Details
Average Review

Scare Factor

Very Scary

Appropriate For

Something for everyone!

Organization Type

Charity / NOT For Profit

Listing Categories

More Info

Wheelchair Accessible, Outdoor Event(s), Indoor Event(s), Touching Not Allowed, Free Parking
13 years of terror. 13 years of mystery, murder and mayhem. X-Scream Halloween 13 is our most ambitious haunt to date! Join us for a journey into the world of dark fantasy. 2 exciting themed haunts, a haunted hayride, entertainment and more!
Tale of the Dragon Witch
Dreams. Most of us don't remember them upon waking - except the bad ones! Where do they come from? Why do we have them? We've all heard tales of the Sandman. A myth, a children's story or something more? Something darker, something more evil than we can imagine lurks in our dreams. Born with the powers of darkness, a witch rules the dream realm and instills the most wicked of nightmares in the unsuspecting. But are they just dreams? Is there a world of evil we aren't aware exists? A world where the creatures of myth and magic dwell? A world where only terror exists. A world created by the most horrid of witches. A world from which escape is not possible.
Enter if you dare but whatever you do - DON'T FALL ASLEEP!
The Void
No light, no hope, no escape! Enter The Void and leave behind any hope of salvation. This is a maze you enter at your own peril - can you find your way out? There is no path, there is no pattern, there is just the dark. Oh, and did I forget to mention the inhabitants? Nevermind, you'll meet them soon enough!
Email Haunt Owner
All photos and videos within this listing are the property of X-Scream Halloween at G-Star
Email Verified

Awesome!

My teen age daughters and I attended. The sets are amazing and interactive! The best bargain around-2 haunted houses, plus FREE carnival games and a dance party with a dj for $33.00. We had a blast but it is not appropriate for young children~beware, very spooky~

| | |
| --- | --- |
| Scare Factor: | |
| Fun Factor: | |
| Haunt Value: | |

Posted October 2018

Good job for new students !!way to go discovering their "PASSION"

FOR NEW STUDENTS THEY DID QUITE WELL!!THEY ARE STILL LEARNING AND DISCOVERING THEIR PASSION!!

Posted November 2014

1 out of 1 found this review helpful

The BEST of the last three years

This year was AWESOME! I am so glad we read the recent reviews and made our way back to gstar. Please ignore the reviews that are dated 2012 or before and pay attention to this year. It is great, scary!!!

Posted October 2014

1 out of 1 found this review helpful

G Star is BACK!!! More jumps than fright nights!!

Last year was SO BAD, that I almost wasn't going to try, but we saw on Facebook that people were liking it. SOOOOO GLAD we went!!! Felt like we waited a long time, but totally worth the wait!!! It was AMAZING!!!! I don't want to spoil it but for those of you who have been, it blows the last two years out if the water and even leaves Fright Nights in the dust. Even my son, who loves this crap, was like THAT WAS SO CRAZY!!

Posted October 2014

1 out of 1 found this review helpful

Scarier than Fright Nights!!!

Amazing set up this year!!! Wow! I have never been in a haunted house like this one and I have been in a lot. I had almost given up after being chased around by zombies last year, but G StAr had totally redeemed itself with this one!!!

Posted October 2014

1 out of 1 found this review helpful

WORST HAUNTED HOUSE EVER!

This has to be the worst haunted house I have ever been to. Not scary at all.. almost laughable. The "zombie" walking behind us yelled in my ear the entire time. And not to mention that "girl zombie's" that were dressed somewhat inappropriate for high school kids and the perverts making remarks about high school girls made this the worst haunted houses I ever visited. Even my 15 year old son was very disappointed and not scared at all. It really should be free admission and for kids under the age of 10. This is not for adults who truly want to be scared.

Posted October 2012

0 out of 2 found this review helpful

Not Scary, Just Aggravating.

In the zombie maze I got stepped on and hit in the face by bus doors. Then while waiting in line for the other haunt I was yelled at and squirted with water guns. I then proceeded to walk through the other haunt where i got hit in the face with a plastic gun, pushed around by the actors and led around in circles where i couldn't even see the monsters faces because the lights was so awful. NOT FUN.

Posted October 2012

complete embarrassment to the creative spirit of halloween

I am a student at g-star school of the arts; where this joke of a haunted house takes place. Before I begin to go off on a vicious rant on how much of a piece of garbage this was, I would like to say that I love my school and the opportunities presented to me there. I think that it is amazing that students get to use their imaginations and make events such as x-scream their own. Now for my aforementioned rant: there was absolutely no thought put into this junk. Literally, the only sets were metal fences with a bunch of kids in cheap costumes and bad acting skills climbing all over them like they're trying to hump them or something. There is no story or progression as you continue through the haunt.The theme was supposed to be abnormal and mythical creatures that the government is trying to hide, and by government, I mean five fat kids in army uniforms walking around with plastic toy guns yelling at me like I'm deaf about which direction to go in. And as for the creatures, or lack thereof, I couldn't even see them that well because the place was pitch black except for six strobe lights every fifty feet. Just throwing a guy in a dark room doesn't scare him. As far as I know, everyone who goes through here can sleep with the lights off without crying to their mothers. Back to the actors; these so called "abnormal creatures" don't look scary at all. For example, the vampires are just a bunch of girls with black eyeliner all over their face screaming like they have ADD. The "yeti" is a fat kid in a gorilla suit that you can buy at a pawn shop for eight dollars. The mermaid wasn't scary at all which was probably because she looked just like Ariel from the "Little Mermaid" Disney film. Supposedly there were also aliens because I saw test tubes with unrealistic aliens in them, but they were just four feet tall kids with masks that probably came from a dollar store. Overall, considering that this is an art school that has a highly accredited acting program, its pathetic to witness the horrific acting that occurs in this haunt. This is a complete waste of time and will make you wish that you spent that eleven dollars on taking your boyfriend/girlfriend to a romantic dinner than this trash. Something else that makes the worst haunted house in Florida this year is that the sets look like they were set up by two year olds. Actually, these pieces of crap don't even deserve to be called sets. That would be an insult to your first grader's school play. The sets are literally just metal fences with the aforementioned crummy actors behind them making noises that leads you to believe that they have to go to bathroom. So, if you decide to take your date to a haunted house in which you hope that they will get scared and make you hold them, don't make it this one because I can tell you for a fact that there won't be a second date.

Posted October 2012

0 out of 1 found this review helpful

not scary at all

some teenagers wearing party city masks? the decorations at my house were better quality. it wasn't scary at all. a waiste of my money and time, the scariest thing there were two "actresses" by a building fighting over something. this is all just a big hype for nothing. don't waiste your money, go to a real haunted house...one thats really scary!

Posted October 2012

Not As Good As Previous Years. Bring Back The Great Cyndini!!

It is always great seeing what the students at G-Star put together. That being said, the 2011 haunted house was a bit of a disappointment. No radio sponsor (used to be the BUZZ 101.3). No circus performers (The Great Cyndini was greatly missed). Only 1 haunted house (in 2008, there were two, plus one of the haunted houses did a flashlight tour). Really was looking forward to the rumor that they were going to do a re-inactment of Rocky Horror Picture Show (that didn't happen, although there was a music show of smaller scale, non-RHPS). Heck, they didn't even have their famous haunted plane. That being said, I loved that there was a food drive going on, I liked hearing the local high school rock bands play, and the haunted house that was there was very cool. The G-Star students are always "in character" and a treat to see.

Posted October 2012

Best ever!!

Great expirence!

Posted September 2012

1 out of 1 found this review helpful

Nice job's ,only....

very good job close to universal studios horror night ,my only suggestion is that is a lot of corners empty that can be cover for the kid's to scary people when they passing by,but the rest absolutely awesome.Congratulation!!

Posted October 2011

alright

it was an ok house. i was upset that they said there was going to be a rocky horror show, but it never happened. we waited forever and after watching some band of kids play music we finally gave up. i probably wont go again.

Posted September 2011

eeh......its alright

it was good, i do go there every year BUT, there has been WAY WAY better haunted house and last year all it was, was people standing around with makeup....im goin there soon and hope its better than last year.

Posted October 2010

Impressed!

Okay coming from adults that came from the Ft Lauderdale area after reading it on websites. I will admit that my first impression was "oh no a bunch of kids". After a while it seemed completely obvious that alot of the kids knew one another and were very excited to get into the haunted house. The lines were long as they only let 6 in at one time. Both my husband and I were pleasantly happy with the outcome and would recommend it to anyone. I didn't eat dinner in the hopes I could catch some food but there wasn't much of a selection. So the only thing I wish to suggest is...get more sponsors to come out, more lighting, take this to your local radio stations and alot more advertisement and I think this would make out for an ABSOLUTELY AMAZING FUN NIGHT. We were disappointed to have to leave just after the haunt because there was not much going on, but boy does this have some even better POTENTIAL. High 5 to all the students...they did a MARVELOUS JOB and we didn't know anyone there! KUDOS...we again were impressed!

Posted October 2009

ONE OF THE BEST!!!!!!!!!!!!!!

I love the haunted house at G-Star! the actors are amazing and WILL make you scream your head off. I honelsty thought it was amazing!

Posted October 2009

Freakin' Awsome!!

This haunted house scarred the crap out of me! The actors come at you from everywhere and won't back down till your crying! It's great! I will definatley be back this year and the next! The costumes they use are so realistic as their make up skills. For a bunch of teenagers, they do above great! My sister was screaming and running from a house so fast she ran out to the parking lot! Seriously guys check it out, you'll love it!

Posted September 2009

1 out of 1 found this review helpful
You Might Also Be Interested In...
All information on this page was submitted to Florida Haunted Houses and was believed to be accurate at the time it was posted. Please report any inaccuracies
here
.